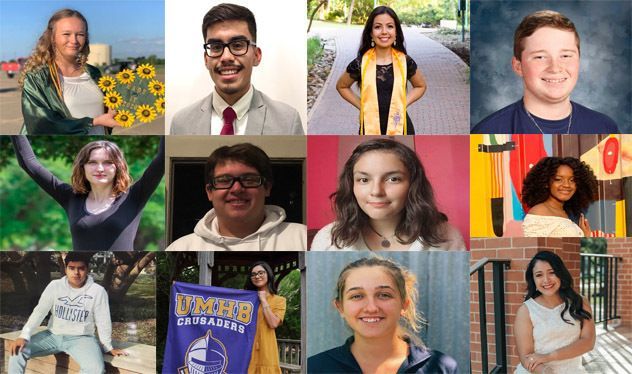 Meet Our 2020 Scholars
---
Please join us in congratulating the Foundation's 2020 scholarship recipients! Our 12 new scholarship recipients boast impressive statistics, with one valedictorian, two salutatorians, a Terry Scholar, five who are first-generation college students and one who was the first person in his high school to earn an associate's degree before a high school diploma. Their college fields of study are just as impressive, with majors ranging from biology, mechanical and civil engineering and nursing to business, accounting, and education, and communication studies. These 12 will attend nine different schools in Texas. We congratulate each one of our scholars, and look forward to sharing their journey with them. 
---
Alisha Frost: Moody High School

Moody High School graduate Alisha Frost had an active high school career. She served as cheer captain, played varsity tennis and softball, and participated in debate and mock trial. A first-generation scholar, Alisha is attending Tarleton State University, where she plans to major in education.

Christian Ramos - Waco High School

First-generation scholar Christian Ramos graduated from Waco High. He attends Texas A&M and major in mechanical engineering. He was on the state-qualifying mock trial team and served as secretary of NHS.

Ivette Padron -- University High School

University High School Salutatorian Ivette Padron earned her associate's degree from MCC while still in high school. She plans to major in communications and sociology at the University of North Texas. A Terry Scholar, Ivette was president of NHS and volunteered in University's well-regarded Tax Preparation Program for Waco residents.

Karson Goates - Gholson High School

Gholson High School graduate Karson Goates has shown livestock for 10 years and hopes for a career in agriculture., specifically goat breeding. During high school, Karson served as a volunteer firefighter. Pursuing a business degree through MCC's University Center, he plans to also obtain a welding certificate from TSTC.

Jennifer Aleman - Valley Mills High School

Valedictorian Jennifer Aleman graduated from Valley Mills High School and is studying biology at MCC with the goal of becoming an orthopedic surgeon. While in high school Jennifer participated in NHS, UIL, cross country and track.

Melany Olivares - Harmony Science Academy

Melany Olivares plans to become one of our Healthcare Heroes. The future nurse attends the University of Mary-Hardin Baylor. A graduate of Harmony Science Academy, Melany served a president of student government, was captain of the First Robotics Challenge, cheer captain and worked for Magnolia Market.

Elias Guadarrama - La Vega High School

First generation scholar Elias Guadarrama dreams of being a civil engineer and earned his associate's degree at MCC while still in high school. The La Vega graduate participated in band, student council, soccer, cross country, Math UIL and NHS.

MyrT'asia Gowan - Connally High School

Connally graduate MyrT'asia Gowan is pursuing a degree in biology at UT Austin. In high school, she was All-State in volleyball, gold medalist in UIL Spelling and VASE art club and a member of Key Club, debate, FCA and student council. She hopes to become a physical therapist.

Natalie Aviles - McGregor High School

McGregor graduate Natalie Aviles participated in varsity cheer, band, National Honor Society, Interact Club, PALS, tennis and was the student council president. The current Miss McGregor attends Temple College to study nursing.

Taylor Mynar - West High School

West High School graduate Taylor Mynar attends Tarleton State University and is majoring in animal science and business. During high school, she volunteered at two therapeutic riding centers and worked at Fox Run Ranch.

Maddison Ives - Rapoport Academy Meyer High School

Salutatorian Maddison Ives graduated from Rapoport Academy's Meyer High School and earned her associate's degree from MCC, where she worked in the math lab. She attends Baylor University, where she is majoring in mechanical engineering.

Alfaro Guadalupe - Mart High School

Alfaro Guadalupe's determination made him the first Mart High School graduate to earn an associate's degree while still in high school. Alfaro served as president of student council and NHS. He placed first in UIL math and accounting. He is attending the University of Texas at Arlington and majoring in accounting.